The Hawai'i Statewide Family Engagement Center (HFEC) is pleased to present a mini
professional development
 series to showcase evidence-based family engagement programs and strategies to schools and complex areas across Hawai'i.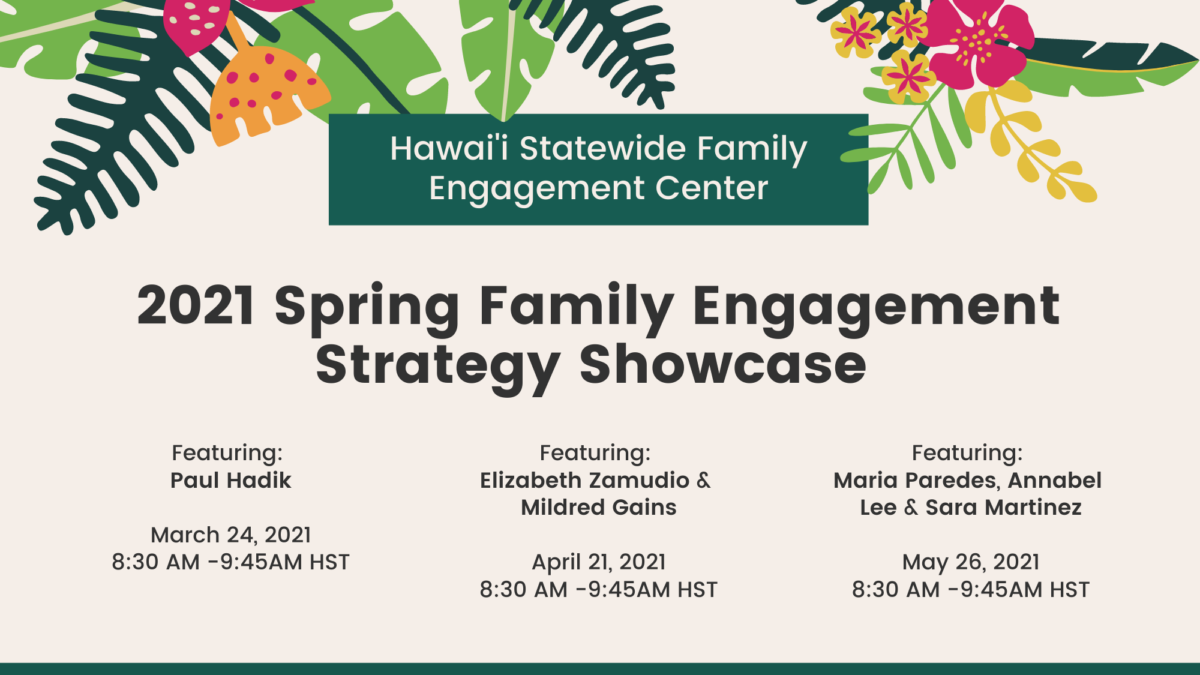 Session 1: Supporting Micronesian Families in Hawai'i
When: Wednesday, March 24, 2021 | Time: 8:30 – 9:45 HST | View Flyer
Featuring: Paul Hadik
This presentation is an overview of why Micronesians are moving to the State of Hawai'i; the obstacles they have to overcome; how they perceive the importance of the extended family and what are some effective strategies that schools and communities can use to build effective and trusting relationships.
Session 2: Parent Institute for Quality Education (PIQE)
When: Wednesday, April 21, 2021 | Time: 8:30 – 9:45 am HST | View Flyer
Featuring: Elizabeth Zamudio and Mildred Gains
PIQE will share current data and best practices that have led to successfully engaging families within education for over 30 years. In addition, PIQE will explain the Best Practices Model available to School District outside of California. Visit their website!
Session 3: Academic Parent Teacher Teams (APTT) 
When: Wednesday May 26, 2021 | Time: 8:30 – 9:45 am HST | View Flyer
Featuring: Maria Paredes, Annabel Lee, and Sara Martinez
WestEd will share components and essential elements of the APTT model and how it works in schools, the roles and responsibilities of families and educators in home-school partnerships, and the training and support offered to help you bring it all together. 
Learn More! and Register!