The U.S. Administration on Intellectual and Developmental Disabilities under PL 106-402 provides support for the Hawaiʻi partners to create a sustainable future for people with developmental disabilities. These partners include the Center on Disability Studies (CDS), the Hawaiʻi State Council on Developmental Disabilities (DD Council), and the Hawai'i Disability Rights Center (HDRC).
Center on Disability Studies
Education, Training, & Research. The CDS promotes community inclusion, advances interdisciplinary scholarship in disability studies, provides benefits counseling and accessible technology training, fosters policy and leadership training related to disability, advances evidence-based practices through research, supports systemic change through service to the community,  expands resources for people with disabilities through grants, and disseminates information and research to support best practices.

Hawaiʻi State Council on Developmental Disabilities
Advocacy & Policy Development. The DD Council engages in advocacy, capacity-building, and systems change activities; develops the five-year State Plan for individuals with developmental disabilities and their families; promotes new approaches and best practices for services and supports; administers the Hawai'i Donated Dental Services Program; supports the Hawai'i Self-Advocacy Advisory Council (SAAC); fosters interagency collaboration and coordination; promotes self-advocacy and self-determination; and provides training in leadership and systems advocacy.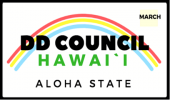 Hawai'i Disability Rights Center
Protection & Advocacy. HDRC provides a statewide system of advocacy as established by Congress to protect people with physical and mental disabilities from unlawful discrimination in all areas of independent living. HDRC advocates and attorneys work directly with consumers and providers towards successful outcomes in: education, employment, housing, programs and services in public and private facilities, public benefits and entitlements, equal access in public places, and Voting Rights.