Hawaiʻi Institute of Marine Biology
Johansen Fish Resilience Lab/Heʻeia National Estuarine Research Reserve
STEM Fields: Marine Biology, Biocultural Restoration, Environmental Studies, and Ecology
Research Goal:
Expose high school students to the field of marine biology while also building relationships to people and place.
Johansen Lab Website: https://www.johansenlab.com/
HIMB Website: https://www.himb.hawaii.edu/
About the Johansen Fish Resilience Lab
Coral reefs have a wide variety of fish species that serve important roles. Some eat algae that can harm corals, while others are crucial for sustaining fishing activities. However, many fish species are highly sensitive to stress and will decline or even disappear if conditions become too challenging for them. To keep fish populations and coral reef ecosystems healthy, we need to identify which species will be affected the most by increasing environmental disturbances. We also need to understand the specific environmental conditions and habitats that support these species in the long run.
The Johansen Fish Resilience Lab led by principal investigator Jacob Johansen, is. stationed at the Hawaiʻi Institute of Marine Biology. Our research focuses on two main goals: first, we want to find out what happens to coral reef fish when they experience more and more environmental stress, like from climate change and pollution. Second, we aim to determine the exact conditions that reef fish need or can tolerate while still performing their crucial roles that benefit humans. The work done within the lab was made to preserve, restore, and sustain coral reef ecosystems despite growing environmental conditions.
In the Johansen Fish Resilience Lab, we have a strong background in studying how fish adapt to their environment and behave. We combine field studies with advanced laboratory techniques to understand how disturbances affect the health and resilience of fish species. Based on our findings, we provide practical solutions, such as setting targets for water quality, to policymakers, communities, and industries.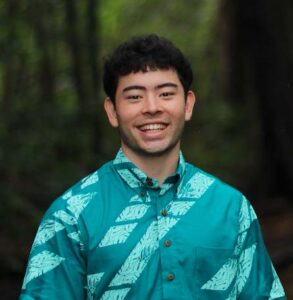 Meet Our Internship ʻAʻaliʻi Kelling
ʻAʻaliʻi Kelling was born and raised within the ahupuaʻa of Heʻeia, Koʻolaupoko, Oʻahu. He is an alumnus of Ke Kula o Samuel Manaiakalani Kamakau LPCS since 2018. After High school, ʻAʻaliʻi attended the University of Hawaiʻi at Hilo and completed the necessary requirements for a bachelor's degree in Marine Science with a Marine Option Program Certificate. Currently, he is MSc. student at the University of Hawaiʻi at Mānoa pursuing a degree in Marine Biology.
His current research project is focused on habitat augmentation as it relates to how Native Hawaiians modified landscapes to alter fish behavior, specifically on fish responses to imu or ahu (fish houses) that are simulated as artificial reef systems along the coastline. The reintroduction of imu into near-shore environments will create safer habitats for fish species and contribute to an increase in abundance. This augmentation can be used not only as a sustainable effort to increase population size but potentially return native species that once thrived within these waters.
Internship duties and responsibilities:
This internship will guide students to think critically about the behavioral ecology of reef fish. Students will explore a broad range of field techniques for studying the behaviors of fishes such as determining the alert and flight distance of different marine species while also their recording home ranges.
Students will:
Snorkel and record field observations
Learn how to search and read scientific journal articles
Learn simple statistics and data representation
Interns should be comfortable with and able to:
Swim and snorkel within 3-4 feet of water ○

Pass the HIMB swim test

Swim 75 m with fins and snorkel equipment
Tread water for 3 min
Float on back for 1 min

Work both outdoors and in a classroom setting
Think critically about data methods and how the results contribute to the broader understanding of fish ecology
Follow all safety procedures for both the outdoor and indoor laboratory setting. Safety training will be required to participate in this internship.
2024 Internship Schedule (Tentative):
Spring 2024:
Summer 2024:
Monday, June 10th – Friday, June 14th
*Schedules are tentative and are subject to change. Interns will be required to work 8 hours in the Spring 2023. Interns will be required to work 40 hours in the Summer 2023.
Internship Meeting Location:
Students will meet by mentor ʻAʻaliʻi at Windward Mall near the two-story parking structure on the back side of the mall and Alaloa Street. The student will then be transported to Lilipuna Pier for shuttle boat access (5 mins from the mall).
Windward Mall Shopping Center
46-056 Kamehameha Hwy
Kaneohe, HI, 96744
Hawaiʻi Institute of Marine Biology (HIMB) Johansen Fish Resilience Lab
46-007 Lilipuna Rd
Kaneohe, HI 96744