About Terraformation
Terraformation aims to comprehensively solve climate change through native ecosystem restoration. We scale natural carbon capture by solving the biggest bottlenecks to forest restoration, accelerating global progress toward this climate solution. We test these solutions here on the Island of Hawaiʻi and deploy them globally. The climate emergency is quickly approaching a point where irreversible damage will occur if drastic solutions are not implemented. Thousands of years of traditional ecological knowledge led our wayfinding ancestors to the paradise that is our pae ʻāina millenia ago. This same knowledge is needed as our collective global waʻa sails into an uncertain future. Our native youth have a chance to be an example to our global community of how Indigenous wisdom implemented in tandem with Western science can lead us to paradise once more.
Meet Our Internship Mentor: Shelly Wimberley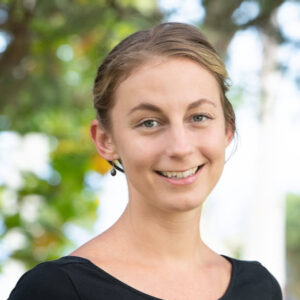 As the Program Manager for the Internal Forestry Operations Team, I focus on supporting Terraformation's Hawaiʻi based projects and team members. I coordinate across the organization to ensure our Internal Forestry Operations team is well supported, and our projects are implemented on time, and to scope. I joined the Terraformation Team just over two years ago after seeking a role where my skills could be used to make a bigger impact on our island home. 
I grew up in the Hamakua and Puna areas, graduating from Hilo High School. I attended Hawaii Community College at Hilo, obtaining an Associateʻs Degree in Liberal Arts and continued to study Tropical Horticulture at UH Hilo. I have always had a passion for plants and the environment, and worked in the professional floral and hospitality industries for years. While I continue to enjoy making lei and collecting house plants in my free time, my position with Terraformation allows me to contribute to creating a sustainable future for communities and the environment.
Internship duties and responsibilities:
Terraformation has a multifaceted approach to climate solutions. Our mentor, Kealiʻi, will work with the Hōkūlani intern to determine the intern's area of interest and connect the intern with the appropriate Terraformation team member. A successful intern will be a critical thinker and a self starter, with a passion for solving real-world problems. A successful intern will be able to ideate and execute their own project with ample support from Terraformation. The internship tracks are:
Forestry Restoration Technician — Prepping restoration sites for planting, performing the planting, and taking care of planted trees.
Product Development — Developing hardware and software.
Nursery Management — Collecting, germinating, planting, and sprouting seeds as well as nurturing and protecting seedlings.
Biocultural Restoration — Identifying areas where we may be able to incorporate Native Hawaiian wisdom and practices into Terraformation's restoration on Hawaiʻi Island.
Interns should be comfortable with and able to:
Work outdoors in any weather conditions.
Be comfortable in getting dirty and working with your hands.
Possess some computer skills (product development)
Have a desire to learn about forestry and nursery management
2023 Internship Schedule:
Spring

 2023

: Tuesday, March 14th, 9am – 1pm & Thursday, March 16th, 9am – 1pm
Summer

 2023

: Monday – Friday, July 10th-14th, 9am – 5pm
*Schedules are tentative and are subject to change. Interns will be required to work 40 hours in the Summer 2023.
Tentative 2024 Internship Schedule:
Spring

2024

: Tuesday, March 19th & Thursday, March 21st
Summer

2024

:July 8th – July 12th
*Schedules are tentative and are subject to change. Interns will be required to work 40 hours in the Summer 2024.
Internship Meeting Locations:
Terraformation
73-4485 Kahilihili Street
Kailua-Kona, HI 96740